Bestseller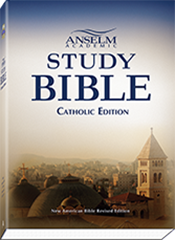 Equipped with wide-ranging features—from basic introductions to scholarly articles, and from photographs and maps to informative study aids—the Anselm Academic Study Bible is designed to meet the diverse needs of the modern classroom. Its expert translation, rigorous scholarship, and ease…
"The Anselm Academic Study Bible  .  .  .  could easily serve as a text for teaching an introduction to the Old or New Testament. The charts, maps, and diagrams provide visual and graphic interpretation, and the supplemental information, like a listing of deities of the ancient Near East, offers the insight that students find fascinating. This is a great Bible."
Shannon Schrein, OSF
Lourdes University, Sylvania, Ohio
""The Anselm Academic Catholic Study Bible is a very fine, one-volume Bible. On top of the freshly updated NABRE Bible translation, with its wonderful footnotes, the additional book introductions provide just the right amount of historical and thematic context to prime new readers to listen for what the inspired author wanted them to hear. The 13 articles at the front of the volume give the academically minded reader helpful background on the Bible''s origins, interpretive methods, and 'big-picture' ideas that reach beyond the individual books of the Sacred Scriptures. This is an excellent text and tool chest for the hungry Catholic whether at school, church, or home.""
Msgr. Mark R. Pierce, pastor
The Parish of Notre Dame, Chippewa Falls, Wis.
"As a pastor, I would recommend the Anselm Academic Catholic Study Bible to those in a Bible study, to all high school students in faith formation classes referring to the Bible, and to anyone wishing to better understand the context of the Bible so they can have a greater grasp of the Word of God."
Rev. Joseph Pete, pastor
St. Mary of the Lake Catholic Church
""The Anselm Academic Catholic Study Bible presents the text of the revised New American Bible (NAB) with fresh introductions and notes by an impressive array of renowned Scripture scholars. There are excellent articles on a wide range of Bible-related issues, ranging from canonicity and archaeology to lectionary provision and different patterns of biblical interpretation. Attractive maps, images, and helpful charts complete this rich array of educational resources. Accessible and authoritative, I recommend Anselm Academic Catholic Study Bible enthusiastically not only to seminarians and students in Bible courses, but also to clergy and interested lay readers.""
Ian Boxall
The Catholic University of America
"Among study Bibles, the Anselm Academic Catholic Study Bible stands out for its excellent translation and notes (New American Bible Revised Edition), fresh introductions to the biblical books, and articles on important and neglected topics such as the social context of the Bible, the Christian Bible and Jews, and contextual and transformative interpretation. Expertly edited and amply illustrated, the volume is a most welcome resource for students and interested adults."
Richard J. Clifford, S.J.
School of Theology and Ministry, Boston College
"  .  .  .  the best of biblical scholarship today.  .  .  .  …Among the real strengths is the careful attention to the contexts of biblical literature by means not only of detailed exposition of ancient attitudes and worldviews, but also charts, maps, and beautiful images.  .  .  . … I will be recommending the Anselm Academic Catholic Study Bible to students, ministerial candidates, clergy, and all those interested in serious academic study of the Bible. I know of nothing quite like it!""
Margaret Y. MacDonald
St. Francis Xavier University, Nova Scotia, Canada